These are some of the folks who are going to help me
make your Maine journey memorable.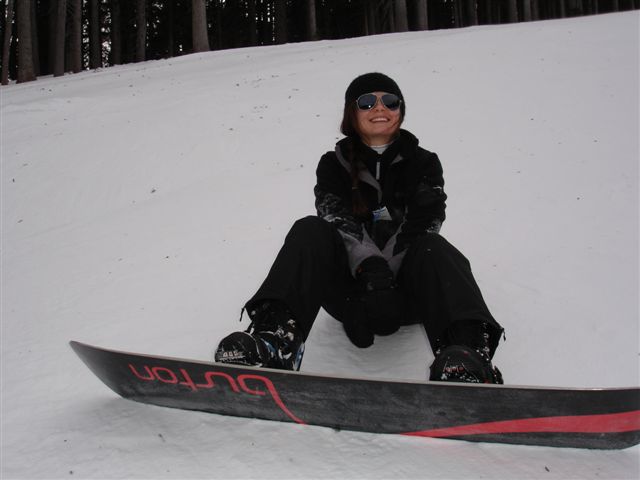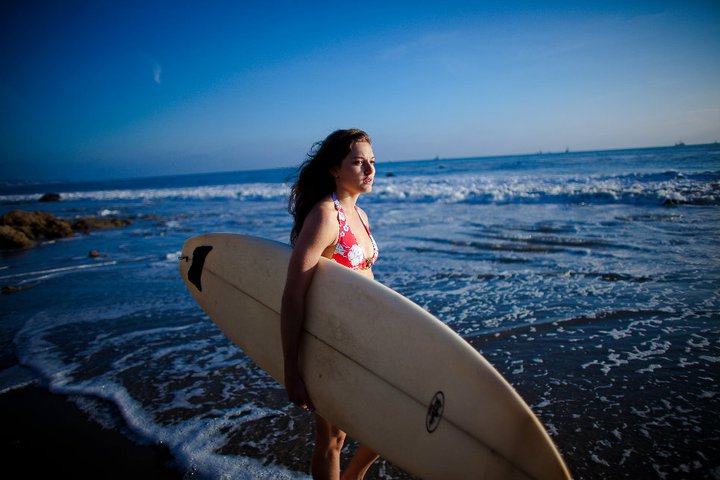 JESSICA- The SledHead Ventures First Mate

Jessica is an experienced outdoor enthusiast, from surfing in Ireland, to canoeing the Rio Grande River through Big Bend National Park, to snowmobiling in New Mexico, and even skydiving in Hawaii. She has traveled extensively throughout the U.S., Europe and Africa, and completed her BS in Political Science in just three years at universities in Hawaii, France, and Ireland. Having spent many years as a competitive gymnast, she's got a strong back and all day endurance that is a challenge to keep up with. My youngest of three children, she is sure to keep the conversation interesting and put a smile on your face, each and every day.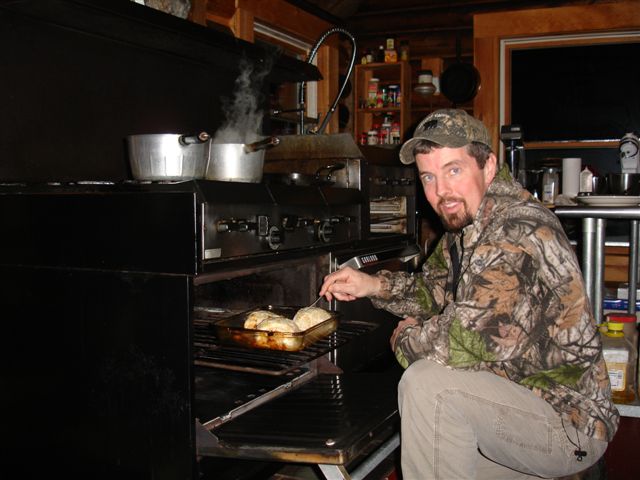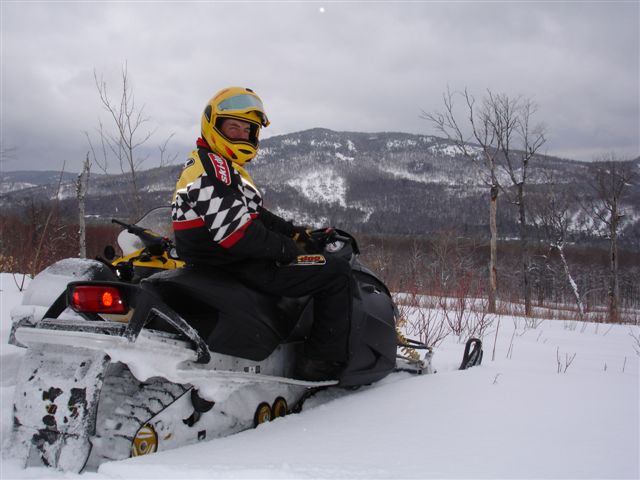 DARREN-
Maine Guide, Chef, Woodsman Extrodinaire

I first met Darren three years ago on my second day of sledding in northern Maine. My buddy Dean and I had earned our Eagle Scout awards together in Maine, 35 years earlier. But, after navigating Dean's sleds to several "food" icons on our locally obtained snowmobile map, all we had found were silent oaks and no signs of lunch.

We were starving and the lunch crowd was long gone by the time we discovered Darren's rustic log lodge on the shore of a frozen lake. There was no evidence of man's presence for as far as the eye could see. Darren made us a delicious lunch, then picked up his binoculars to look for coyotes that might be snacking on the carcass he had left for them, a mile across the lake. Darren explained that, in the spring, he'd take his coyote pelts to a crusty old woodsman a hundred miles away to have them made into hats, like those for sale that hung above my head.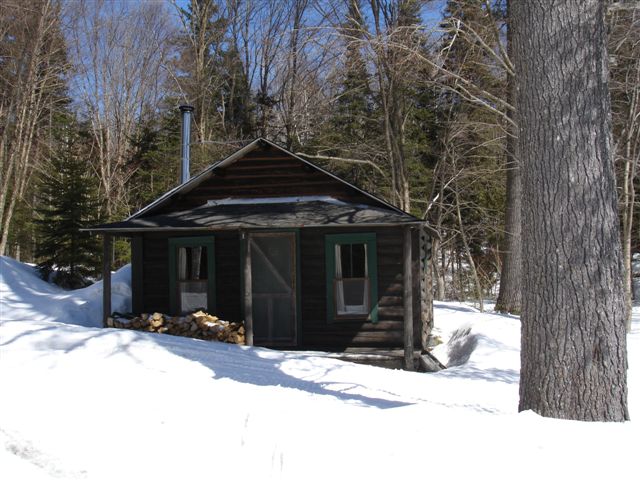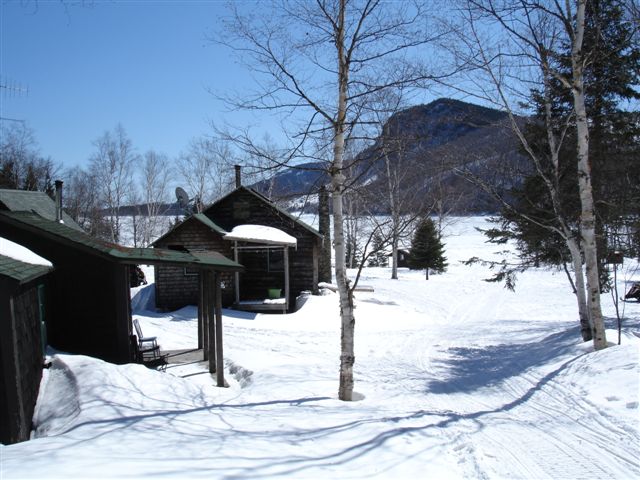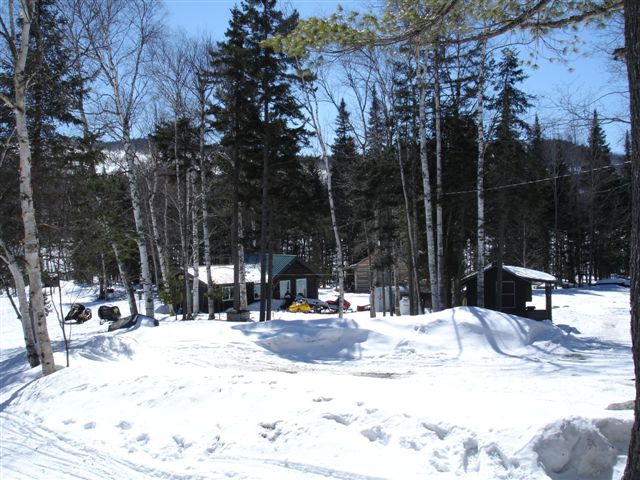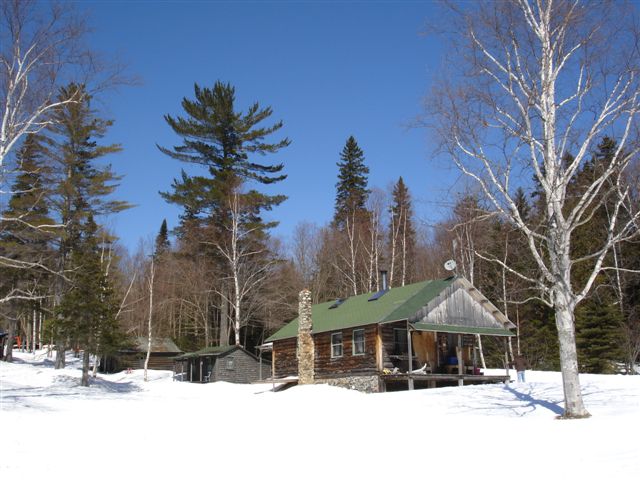 As we finished our lunches, Darren offered strawberry cake for dessert- just out of the oven a few hours ago. Through the open doorway, I could see a chocolate cake sitting under a glass cover on the kitchen counter. I asked for a slice of the chocolate, but he politely, again, offered the strawberry. I repeated my request. He offered strawberry. Now, for me, chocolate is a food group and I find it particularly tasty while on a break from skiing or snowmobiling. I had to have that cake! He politely explained that he makes one cake per day and that guests are only served fresh cake. Yesterday's chocolate was only for family- "but, if you come back on Thursday, I'll have a fresh chocolate cake for you." I tried to reason with the man. As somewhat of a cook myself, I could appreciate his policy, but I was more than willing to accept the 28-hour-old chocolate cake. I got nowhere with him. I came back on Thursday, and we've been friends ever since. This spring and summer I worked as a cook for him, so now I'm "family", but more importantly, I now have access to day-old cake!

So that story tells you a lot about what kind of man Darren is- he has high standards, and he sticks to them. Those standards have been keeping his hunting, fishing, sledding, and ATV customers coming back for years, despite the fact that he literally lives in the wilderness- no electricity, except what he makes with a generator, no phone lines, and no cell phone coverage. If it weren't for satellites, he'd have no connection to the outside world except for a 30 minute ride down a rocky logging road to the pavement.

Darren spent 11 years as a logger in Maine and New Hampshire, working a chain saw, climbing mountains with skidders, and driving trucks to the mill. He also owned an excavation business for six years- running and maintaining a fleet of heavy machinery. All that experience was put to good use when he bought the only cabins on a lake that no one else will ever be able to build on. The structures were 100+ years old. Only a horse and a float plane connected them to the rest of the world. He's been guiding hunters and fisherman in Maine's backcountry for 15 years and sledding since he was four-years-old. If you're interested in hunting moose, trophy deer, bear, or coyote, or, if you enjoy casting a fly, I guarantee you'll be pulling out your calendar during a chat over lunch with this Maine Guide...while I eat my chocolate cake.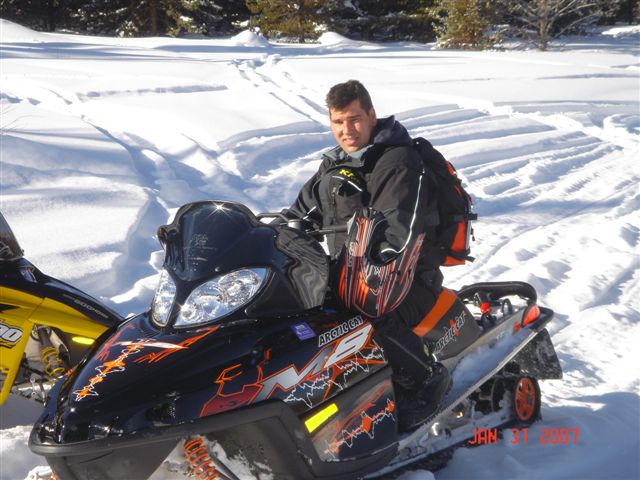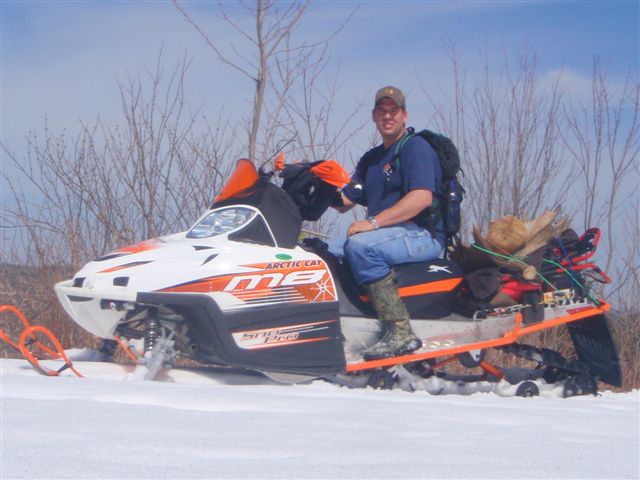 JOE- Maine Guide, Extraordinary Host

Joe has been sledding for 35 years and has Maine Guide expertise in both the moose hunting and snowmobiling arenas. I met Joe while having dinner at Darren's lodge, but, to be honest, I don't recall which flavor cake was on the menu that day. What I do remember is our discussion about our mutual passions for snowmobiling, the wilderness, and flying- he in float planes, and me in helicopters.
Joe and his wife, Liz, own and operate the lodge from where my snowmobiling adventures will be based. After having each gained 20 years of experience in Florida's hospitality industry, they have returned to Maine where Joe's family has roots going back 40 years. As you enjoy the hospitality at Joe and Liz' "luxury in the rough" lodge, you will surely notice just how much they love what they do.